Jun 6, 2013, 08:33
Doing basic music searches on www.MusicRevolution.com just became more fun. We're proud to announce we've just overhauled the "Related Searches" feature that you see at the top of every page of search results. Here's how it works:
Let's say you've started your music search with the query "funky". Your search results probably look something like this: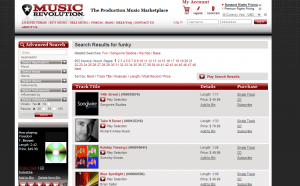 But imagine you've listened to a few of the tracks and they all seem off the mark. You need something different, but you're not sure how to find it. Whenever this happens on Amazon they always show that handy list of "Related Searches".  And if it's good enough for Amazon it's good enough for us.
Take another look at those search results, but this time look towards the top: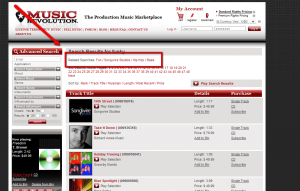 You've got four different "Related Searches" links to try. Each one will kick-off a new search for tracks that share some of the qualities of the first batch, but not all the qualities. Think of them as out-of-state relatives…who may or may not get along with each other.
Happy music searching!
_____________________________________________________________________
Mike Bielenberg is a professional musician and co-founder of http://www.musicrevolution.com, a production music marketplace with over 23,000 tracks online where media producers, video producers, filmmakers, game developers, businesses and other music buyers can license high-quality, affordable royalty-free music from an online community of musicians mbielenberg@musicrevolution.com.