Jul 30, 2014, 14:05
There's a tourist attraction in my hometown of Atlanta – started by some friends years ago – called Metalsome Monday. It's Karaoke – but with a genius twist: Heavy metal songs backed by a killer live band. It draws throngs of 80's refugees, hipsters, club-goers and other types who normally wouldn't be caught dead in a Karaoke bar. It's featured in all the tourist guides. It's listed in all the hotel brochures.
Sometimes it's the smallest twist on an old thing that finally brings in that wider audience we've been hoping for.
Paul O' Connor; a media producer, blogger & catalyst-for-social-change based in the UK; is doing the same thing for the medium of short film.
Put simply, his twist on short films is the physical environment in which they're presented. Sol Cinema is a mobile movie theater powered entirely by the sun. It's a caravan (or trailer as we say in the states) that comfortably accommodates eight adults.
It's become a hugely popular attraction at large outdoor festivals where attendees strolling around can pop in to see a short, independent, presumably mind-blowing film. All while enjoying the complete movie-theater experience – replete with usherettes, popcorn and the red carpet.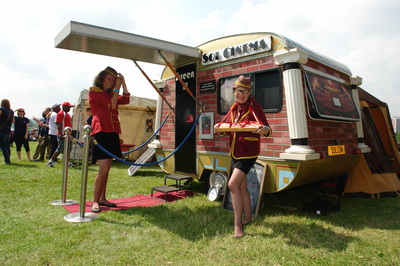 "I'd been showing films at festivals for a long time" Paul explains. "But they were all at night. I wondered 'How do you get people watch films during the day?' It's really, really hard to black things off and make that happen."
"So we came up with the idea to do it in an enlcosed space that was mobile. Make it so audiences get the popcorn, have the movie experience, etc. The idea is that with that kind of introduction, they feel connected to the film. I've always found the idea of 'mini-plexes' more interesting than 'multi-plexes'."
Paul and his colleagues first introduced the concept at a festival at a St. Patrick's Day festival in Dublin. "I've found that audiences in Ireland are a bit more open to experimentation with this kind of thing. So it seemed like the best place to try the idea. We put up the website (www.thesolcinema.org) and said 'Let's try what it is.'"
"The film we showed was by an animator who obtained audio transcripts of these famous interviews conducted in the 1950's. The animations were just brilliant. I can't remember the name of the film right now (O 'Connor had just returned from a festival and was exhausted), but it was absolutely amazing. We believe that kind of work deserves more exposure."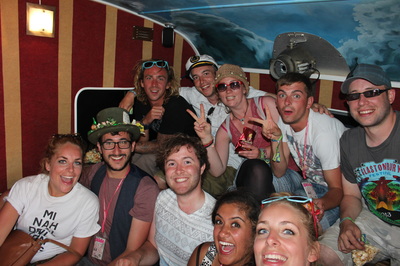 Today Sol Cinema has been a hit at over 20 festivals in the UK.
"We just returned from Glastonberry where there were over 200K attendees – just a huge event. It's been great to see so many people get introduced to these films and have a good time doing it."
When Sol Cinema debuted, O' Connor relied on content contributed by filmmakers he knew through personal connections. But as I heard him describe the size and scope of this new audience he and his colleagues have now tapped, I thought to myself "This guy's going to have indie film studios knocking on his door in no time."
Congratulations to you, Paul, on creating something we think is more scarce than a mind-blowing short film…a channel through which that film can be delivered that has a wide audience.
Well done, mate.
___________________________________________________________________________________
Mike Bielenberg is a professional musician and co-founder of http://www.musicrevolution.com, a production music marketplace with over 30,000 tracks online where media producers, video producers, filmmakers, game developers, businesses and other music buyers can license high-quality, affordable royalty-free music from an online community of musicians mbielenberg@musicrevolution.com.