Feb 6, 2015, 14:25
From a musical standpoint, last week's most innovative Super Bowl commercial featured no music at all. This Carnival Cruise Lines spot should have been accompanied by huge, epic music. So imagine our surprise when these gorgeous, panoramic shots were underscored by this singular, crackling voice:
John F. Kennedy delivered this speech in 1962 to the participants of America's Cup – a yacht race in which only Great Britain, Canada and the US had competed up to that point. Australia was participating for the first time so the president was using the occasion as an opportunity to affirm our diplomatic ties with them.
After a humorous account of illegal alcohol trafficking between Rhode Island and Australia in the 1700's, Kennedy ended his short remarks with:
"The United States and Australia are most intimately bound together today, and I think that — and I speak as one who has had some experience in friendship and some experience in those who are not our friends — we value very much the fact that on the other side of the Pacific the Australians inhabit a very key and crucial area, and that the United States is most intimately associated with them. So beyond this race, beyond the result, rests this happy relationship between two great people."
It's hard not to feel wistful when listening to JFK talk about the ocean. In 1943, after his naval vessel was struck by a Japanese ship, young Lt. Kennedy and his surviving crew members had to swim four miles to reach a deserted island where they lived off of coconuts for six days. One of his crew members died. When Kennedy was finally able to reach the authorities, the rescue of his crew was orchestrated by an Australian named Reg Evans.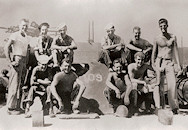 This speech surely had special meaning to the president. In his calm, thoughtful delivery we hear a man who's truly feeling what he's saying.
Here's to Carnival Cruise Lines, their poetic homage to the sea, and one of the greatest American Presidents the world has ever known.  
_________________________________________________________________________________
Mike Bielenberg is a professional musician and co-founder of http://www.musicrevolution.com, a production music marketplace with over 33,000 tracks online where media producers, video producers, filmmakers, game developers, businesses and other music buyers can license high-quality, affordable royalty-free music from an online community of musicians mbielenberg@musicrevolution.com.