Sep 8, 2016, 17:29
In 2005, Hollywood screenwriter Blake Snyder published Save the Cat!, a movie-maker's help-guide that explained the governing dynamics behind every movie you've ever loved. Snyder's explanation of concepts like "stating the B story theme", "fun and games" and "whiff of death" was so down-to-earth, studio executives who read the book could hold their own in script meetings for the first time.
Running your favorite movies through the sieve of Save the Cat! is like listening to your favorite songs after learning music theory. You actually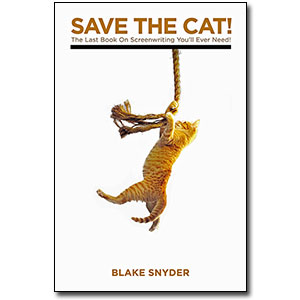 understand what's happening.
For film composers this book is a Godsend. A composer who understands the 50 "beats" that Snyder insist must happen in every good film will understand the structural context of any scene for which they are writing. And that composer gets the wicked-cool job of cauterizing whatever raw emotion must be burned into the audience's heart at any point in the journey. Here's a great example:
The Little Prince (2015), a Netflix original film scored by Hans Zimmer with help by Camille! and Richard Harvey, is to Antoine de Saint-Exupéry's 1943 novella what Hook (1991) is to Peter Pan. It asks, where are those characters now? What happened to them?
One of Snyder's 50 beats is what he calls the "midpoint break":
"..a movie's midpoint is either an 'up' where the hero seemingly peaks
(though it is a false peak) or a 'down' when the world collapses all around the hero (although it is a false collapse), and it can only get better from here. When you decide which midpoint your script is going to require, it's like nailing a spike into a wall good and hard. The clothesline that is your story can now be strung securely…You will hear the phrase 'the stakes are raised at the midpoint' in a lot of script meetings. Because they are. It's the point the where the fun and games are over."
In our example, the midpoint break in The Little Prince occurs 47 minutes into a 1-hour-46-minute movie; pretty much on schedule. And it is unmistakable. It is unmistakable because the song "Equation", composed by Hans Zimmer and performed by Camille! tells you so.
Our main character, a little girl, has spent the first half of the movie discovering the childhood she missed with the help of her eccentric next-door neighbor (beautifully voiced by Jeff Bridges). But after a run-in with the law, the little girl's overbearing, very-grown-up mother must get involved and refocus the young girl on the family mission….emotionless productivity, studious monotony and making oneself essential to society. The party's over.
And while the angry rant by the little girl's mother makes us understand that all is lost……this song makes us feel it.:
Film composers have the coolest job ever. They communicate directly with our hearts – ruthlessly and without permission. And as the Little Prince tells us in the movie, "it is only with the heart that one can see rightly."
___________________________________________________________________________________________
Mike Bielenberg is a professional musician and co-founder of http://www.musicrevolution.com, a production music marketplace with over 45,000 tracks online where media producers, video producers, filmmakers, game developers, businesses  and other music buyers can license high-quality, affordable royalty-free music from an online community of musicians. mbielenberg@musicrevolution.com.