Jan 22, 2014, 02:40
When I wrote jingles back in the late 90's I often felt the need to beat up singers. After all, they cost more. The subtle nuances of a trained human voice whispering a line in order to lure in the listener had no place in my vocabulary. If that singer didn't leave my session, crying and bleeding, and give me a track full of high-range, chest-voice belting (regardless if that was their specialty); then some of my client's money was still on the table.
Doing that to vocalist Jan Smith was like that scene in Man of Steel where the US Army soldiers try to keep Superman in handcuffs.
Back when I produced this track for a Ford commercial (by way of their agency J. Walter Thompson) Jan was not only an Atlanta first-call session vocalist, she ran a vocal coaching studio (she's now known in the industry as the voice-teacher-to-the-stars with clients like Justin Bieber and Rob Thomas).
Listen to "Your Speech Was Absolutely Fascinating"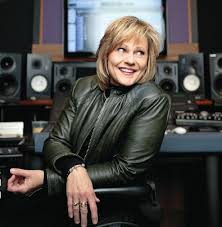 Most producers, myself included, try to get as much of a singer's je ne sais quoi down on tape as possible in the short time that we have them. Later, when mixing, it's good to have as many options as possible. So I remember spending most of this session having Jan do as many takes of that 2-second tag-line as possible.
But Jan's singing was so spot-on, so controlled, so well-crafted I honestly couldn't think of anything intelligent to say to the woman. Actor Christopher Walken said there's really only two things a director can say to an actor after a take: "Do it again"….or "print". Eventually my inner-cheapskate just had to say "print".
Next, we moved on to the first twenty seconds of the track where I needed some vocal filler. At the time I didn't think it would be an important part of the track so I asked Jan to just improvise some "ooh-aah" stuff so we could have something. The agency probably wouldn't use it anyway.
The agency totally used it. There wasn't a moment's hesitation: "I like the version with the girl singing all the way through. Let's air that one."
Sessions like these made me feel like nothing more than a banker with a cool job title. And I loved it. And I love having my very own Jan Smith story.
To complete the hommage, here's another one Jan and I did together, years later, for the World Congress Center (also featuring vocalist Mike Gleason):
Listen to "That is One Frustrated Mormon"
A few days I ago I reached out to Jan to learn about any upcoming gigs she may have. For you lucky Atlanta folks, Jan will be performing with Peter Vogl, Michael Doke, Lesa MacGregor and special guest Carmen Ford at the Red Clay Theater on Friday, Febrary 14th, 8 PM.
Here's to you, my well-respected colleague and all of your vocal badassery. I'll try to come out and see your show.
____________________________________________________________________________________
Mike Bielenberg is a professional musician and co-founder of http://www.musicrevolution.com, a production music marketplace with over 28,000 tracks online where media producers, video producers, filmmakers, game developers, businesses and other music buyers can license high-quality, affordable royalty-free music from an online community of musicians mbielenberg@musicrevolution.com.