Apr 16, 2016, 02:40
A gnarly industrial-pop song called "Guns Blazing" by Cobra Ramone was used to underscore the most erotic scene I have ever witnessed in a movie where everyone's clothes stay on. In the 2013 independent film All the Wrong Reasons, our main female character (played by director Gia Milani) has a crush on a male co-worker. In the scene, Milani's character has a dream where her amore is standing still as a statue in their workplace. She stands next to him – studying him up and down like an object – then kisses him.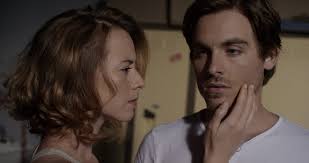 The entire dream sequence happens in excrutiatingly slow motion on top of this grinding beat:
My written words don't do this justice. You have to watch the movie. In art, there are moments when sensuality is holy – not seedy (check out turn-of-the-century paintings by Mamet). This scene – one of those moments to be sure – is worth the price of admission.
Kudos to director Gia Milani and her team for this incredible cinema moment.
____________________________________________________________________________________________
Mike Bielenberg is a professional musician and co-founder of http://www.musicrevolution.com, a production music marketplace with over 40,000 tracks online where media producers, video producers, filmmakers, game developers, businesses  and other music buyers can license high-quality, affordable royalty-free music from an online community of musicians. mbielenberg@musicrevolution.com.