Aug 23, 2017, 12:25
If you've ever felt like your music composition career is stalling because of things beyond your control, read the below article by Michael A. Levine.
Levine worked with Oscar-winning film composer Hans Zimmer for 13 years. For those of us who heard Zimmer's simplistic film score to Thelma and Louise; then wrote him off as a hack; then wondered why film directors weren't beating down our door, this is downright confronting:
Why Hans Zimmer Got the Job You Wanted (And You Didn't)
https://behindtheaudio.com/2013/07/hans-zimmer/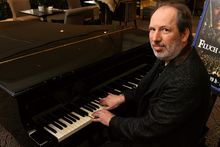 Author Michael A. Levine wrote and produced the theme song for the new Resident Evil VII Biohazard VR game, the first ever Virtual Reality game in the series. He is also the composer for the upcoming George Lucas-produced Star Wars Detours animated series featuring Seth Green and Seth MacFarlane.
His website is: http://michaellevinemusic.com/
Congrats to Levine for publishing this great article. It is rare to see this much truth, humility and eye-witness testimony in one place.
_______________________________________________________________________________________
Mike Bielenberg is a professional musician and co-founder of http://www.musicrevolution.com, a production music marketplace with over 50,000 tracks online where media producers, video producers, filmmakers, game developers, businesses  and other music buyers can license high-quality, affordable royalty-free music from an online community of musicians. mbielenberg@musicrevolution.com.